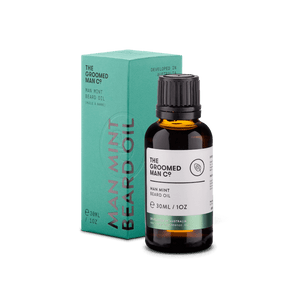 Feast your follicles on Man Mint Beard Oil, a light-weight, non-greasy mix of Argan, Jojoba and pure Australian essential oils. Don't worry, you're not going to walk around smelling like toothpaste. We blended wild peppermint with bergamot, sandalwood and rosemary for a refreshing, complex, man-about-town vibe. Get that minty fresh beard feeling. 
Why The Groomed Man Co.? Premium Australin made oil blends which are highly concentrated, longer lasting and promotes less waste due to the drip design. Buy right the first time, you'll save in the long run.
Try a few drops on your face, before you go to sleep. It'll nourish and protect your skin.    
Less is more with beard oil. Two or three drops is all you need.  
Man Mint Beard Oil is vegan-friendly. It was tested on human beards.