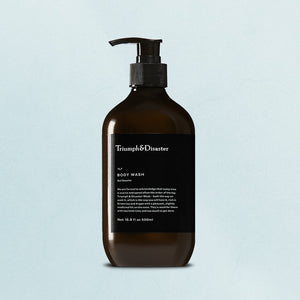 Despite our best efforts we are forced to acknowledge that in today's world time is scarce and speed often the order of the moment, so we get what we have right here, which is YLF.

 Built the way we want it, which is the way you will have it - rich in Argan oil, Green tea, Vitamin E and Kawakawa extract. YLF is a genuine 'head, shoulders, knees and toes', that delivers a pleasant, slightly medicinal, Sandalwood and Neroli infused hit on the nose. It is a wash for those with too little time and too much to get done. 500ml
THINGS YOU NEED TO KNOW 
When T&D designed YLF they asked themselves what should the perfect wash actually do, the answer, four things;
1/ The perfect all-rounder – YLF is T&D's head, shoulders, knees and toes. Meaning it can do it all, wash the body, clean the hair and even lather for a shave.
2/ Hydrate the skin; we utilise the smoothing and hydrating effects of Argan oil and plant-based surfactants. 
3/ It should smell great – but not be too strong or overpowering, because you are in the shower, not a car wash. The sweet combination of Neroli and Sandalwood delivers on this herbal, woody promise.
4/ It should be nutrient-rich – nothing ensures this more than the combination of Argan oil, Kawakawa and Green tea leaf extract. 

YLF actively protects the skin's natural lipid balance and avoids stripping the skin of its moisture and nutrients, it is free of denatured alcohol and concentrated menthols - Triumph & Disaster does not use these ingredients ever.
KEY INGREDIENTS
Argan Oil - Packed full of Vitamin E and Omega 3, 6 and 9, Argan oil from the kernels of Morocco's Argan tree (Argania Spinosa) is seen as a wonder ingredient for skin and hair with its amazing healing, antioxidant and moisturising properties that combat problem skin and fight free radicals, whilst nourishing and hydrating skin and hair. A genuine all-rounder!
Kawakawa Leaf Extract - Kawakawa in Māori refers to the bitter taste of the leaves, from kawa meaning bitter. Kawakawa or NZ Pepper Tree was one of the most important plants in Rongoa (medicine), Maori used it externally for cuts, wounds and bruises and also applied it as a treatment for toothache, nettle stings and eczema. All of which leads us to believe that it makes for a great ingredient in a cleansing, calming body wash.
Green Tea Leaf Extract - Green tea is widely known for its rich antioxidant properties. Those agents which can counteract the effects of oxidant radicals, "free radicals" as they are commonly called, are by-products of the body that can cause damage to cells and tissues. Antioxidants bind to the free radicals, deactivating them before they can cause harm. Green tea is a wonder ingredient that has been touted as the solution to world peace, we just think its a great antioxidant ingredient for our body wash
LIST OF INGREDIENTS
Aqua (Water), Cocamidopropyl Hydroxysultaine, Sodium Laurylglucosides Hydroxypropylsulfonate, Sodium Lauroyl Sarcosinate, Sodium Lauroyl Methyl Isethionate, Glycerine, Gluconolactone, Sodium Benzoate, Caprylyl/Capryl Glucoside, Parfum (Cedarwood, Patchouli, Sandalwood, Lavender, Neroli, Petitgrain, Rose, Ylang Ylang), Potassium Sorbate, Camellia Sinensis (Green Tea) Leaf Extract, Guar Hydroxypropyltrimonium Chloride, Argania Spinosa (Argan) Kernel Oil, Macropiper Excelsum (Kawakawa) Leaf Extract, †Geraniol.  (†Component of Natural Fragrance)