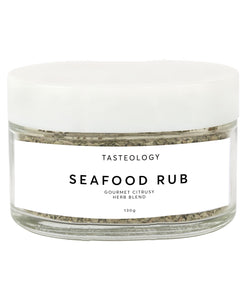 This savory, tangy blend of lemon and herbs will elevate the flavour of any seafood and chicken dish. Rub directly onto your seafood or mix with melted butter for a dip or olive oil for a marinade.
The rub comes in a premium oversize glass jar.
130g.
__________
Ingredients: Salt, Citric Acid, Vegetable Oil, Rice Flour. Dextrose, Dehydrated vegetables, Herb and Spice mix. 
May contain: Traces of pine nuts, gluten and other nut products.