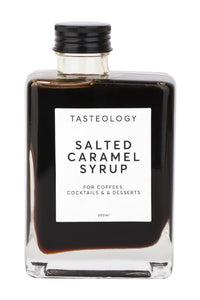 This creamy Salted Caramel is perfect in coffees, milkshakes, desserts, cocktails and on ice cream.
It comes in a high quality glass bottle with a screw on cap.
300ml.
Made in Australia.
________
Ingredients: Brown Sugar, Golden Syrup 12%, Salt 5%, Natural Caramel Flavour 2%, Lemon Juice Concentrate.
Store: Do not refrigerate.
May contain: Traces of Nuts, Egg, Soy, Dairy, Anchovy and Sesame.