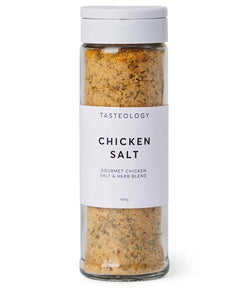 Our Gourmet Chicken salt is our own luxury version of the everyday chicken salt. Sprinkle on hot chips, vegetables, chicken, meat and fish. We only use natural ingredients, no added MSG or other nasties. The herbs we use are all dried before they go into our mixes. 
This blend comes in a high quality refillable 17cm tall glass bottle with a flip cap.
Store in a cool, dry place out of direct sunlight.
200g.
Ingredients: Salt, sugar, rice flour, natural anti-caking agent, natural flavour, vegetable oil, turmeric, pepper, thyme, marjoram.
May contain traces of tree nuts, gluten and seasame.