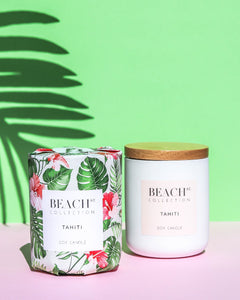 The Tahiti soy candle by Beach Street Collection was inspired by its location combining tropical wild frangipani petals with a bouquet of cyclamen, ylang ylang & heliotrope.
It was handmade in Sydney Australia using natural 100% soy wax carefully poured into a milky white matte vessel.
Finished with a polished oak lid this candle disperses over 60 hours worth of fragrance and is artfully hand wrapped in thick paper adorned with tropical motifs; a special gift of paradise from us to you.
300g / 60 Hour Burn Time