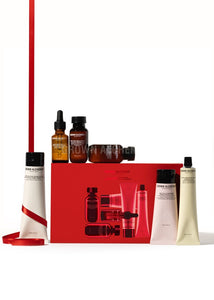 $250 Value. Limited-edition 6-piece holiday gift set featuring a full 6-step morning skincare prescription with products that address skin-damaging free radicals imparted by external aggressors that can accelerate the visible signs of aging. The result is a well-rested, plump, youthful-looking complexion. Includes 4 Full-Sizes and 2 Travel Sizes.
Full-Sizes
Travel Sizes
GENTLE GEL FACIAL CLEANSER Chamomile, Bergamot, Rose and Willow Bark naturally cleanse, purify and decongest the skin. This purifying blend is known to tighten and visibly diminish pores, clear blackheads while promoting healthy cell turnover that leaves skin looking brighter and more even-toned.
HYDRA-REPAIR DAY CREAM Olive Leaf Extract naturally helps tighten pores without drying out the skin. It is packed with antioxidants, hydrates, calms and helps minimize the appearance of discolorations, brightening the skin.
INSTANT SMOOTHING SERUM Hyaluronic Acid -- this is a pure form of this powerhouse hydrating ingredient that is found naturally in our skin. A humectant, Hyaluronic Acid pulls moisture from the air into our skin, has water-binding properties and is able to hold up to 1,000 times its weight in water.
HYDRA-REPAIR DAY CREAM Aloe, Rosehip, Camellia (Green Tea) and Jojoba Oils deliver antioxidant protection and phytosterols for superior hydration that is non-greasy, yet deeply penetrating and long-lasting.
ANTI-POLLUTION PRIMER Reishi Mushroom Extract provides intense hydration, is packed with rejuvenating beta-glucans and helps sustain the levels of two of our skin's most powerful antioxidants. Plus, it is combined with peptides and a pollution-fighting complex to help calm irritation, fight skin damage that leads to visible signs of aging and promote a brighter, more even skin tone.