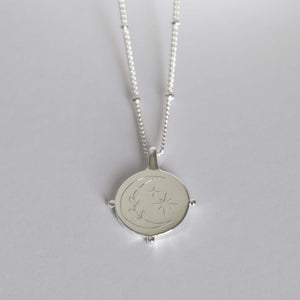 Ethereal Necklace in Silver
Ethereal Collection - Divine Beauty
Our Ethereal collection reminds us of the divine beauty found in all creation. When we are present and connected, our lives are full of unlimited potential and anything is possible. Focus on your goals, trust your intuition, and surrender.
Etched symbols representing Mother Nature and the Universe with all of its wonders, our Ethereal pendant necklace is a timeless piece to add to your collection. 
Each and every Love Lunamei piece is lovingly gift boxed and includes an inspiring message just for you.