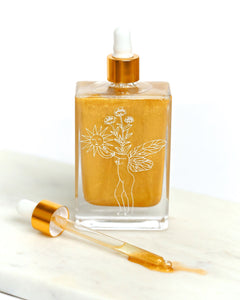 Summer Solstice Body Oil is an all natural shimmer oil with a delicate floral perfume thanks to the beautiful Ylang Ylang, Grapefruit, Mandarin & Sweet Orange. Deeply hydrates skin while leaving a light sun-kissed glow and works well with all skin types. Can also be used in the bath. Make sure to regularly shake this product before use to get the most out of it's glittery magic. P.s. If you like our Aphrodite perfume roller you'll love this oil as it's the same scent!
KEY INGREDIENTS
Ylang Ylang: A beautifully delicate floral essential oil that is known as the Oil of the Inner Child. A beautiful oil to promote love, joy and emotional healing in your life. It also has magic antimicrobial properties that can help support irritated skin.
Grapefruit Oil: The oil of honouring the body, grapefruit oil is the queen of self-love essential oils. It also has amazing antimicrobial and antiseptic benefits, boosts the immune system, can help hormone balance and lift mood.
Sweet Orange Oil: The oil of abundance. Inspires prosperity, fosters creativity and supports positive thoughts. It's also one of nature's finest cleansers, thanks to its powerful antibacterial properties and high levels of antioxidants and Vitamin C.
Patchouli Oil: Reduces inflammation, lifts mood and is perfect for sensitive and dry skin. It is know as the oil of physicality and helps to ground you in your body and connect with yourself.
Sweet Almond Oil: Perfect for dry skin as its full of vitamin E, vitamin A, monosaturated fatty acids, protein, potassium, and zinc. Keeps your skin really healthy while also providing UV protection.