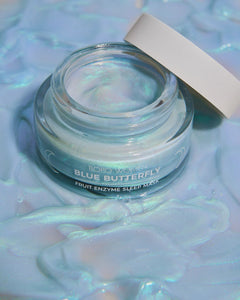 Like a shimmering treasure chest at the bottom of the ocean, the Blue Butterfly sleep mask is the jewel in your skincare crown. A natural AHA/BHA fruit enzyme blend of bilberry fruit, willow bark, sugar maple and lemon brightens and exfoliates without irritating your skin, leaving skin refreshed and glowing. This mask also packs a hydration punch with sugar beet extract and sodium hyaluronate locking in moisture and promoting cell regeneration. With a sleep-inducing essential oil blend of sweet orange, rose and chamomile oil, it's the mask that happy dreams and skin are made from.
The incredible fruit enzyme blend of bilberry, sugar cane, orange, lemon and maple gently exfoliates without irritation, while also increasing collagen production.
Sodium hyaluronate, a derivative of hyaluronic acid, works to hydrate the skin on a deep cellular level. Betaine, a natural moisturiser extracted from sugar beet, protects the skin from environmental stress and dehydration.
A heavenly sleep-inducing essential oil blend of orange, vanilla and rose relaxes the body while calming the mind.
To use as an overnight mask:
 apply a generous layer to your skin as the final step of your skincare routine 3 times a week. If your skin is drier, or feels like it's in need of some extra love, you can add an additional pea-sized amount or use the mask more frequently throughout the week. Apply by gentling patting the product into your skin. Wash thoroughly in the morning. 
To use as a wash off mask: if your skin feels like it's need of a daytime boost you can also use your Blue Butterfly as a wash off mask. Spread a thick layer gently across the face from forehead to chin. Rinse with lukewarm water after 20 minutes.